₹70,000
of
₹70,000
raised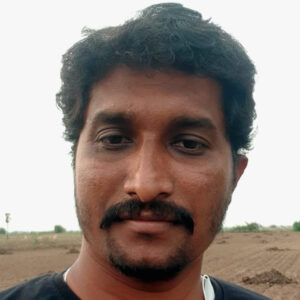 Name: Venu Polisetti
S/O: Sivaiah garu
Education: MBA and a passion for agriculture using natural farming methods.
Location: Chodavaram village, Guntur Rural Mandal & District, 522019.
Contact: +91 99122 20013
Interest: Venu wants to use natural farming methods in his family-owned four-acre farm. He wants to grow Mirchi (green chillies) in two acres and cotton in two acres.
The MMF's project success with procuring cattle for widows has propelled us to take up a more active role in helping farmers improve their farming yields. As a part of this effort, we have established a collaboration with the Padmaja Agro Industries in Bhimavaram, AP. Further, we are attempting to encourage farmers to adopt biofertilizers as a safer, cost-effective, and sustainable alternative to harmful chemical-based fertilizers and pesticides. Their biofertilizers provably demonstrated higher yields, better plant health, and improved soil fertility.
The concept of biofertilizers is not new and is widely known for their benefits among the scientific and research community. However, farmers have been continuing to use chemical-based fertilizers and pesticides primarily either because of peer pressure or there is not enough trust in the use of biofertilizers.
In a pilot effort to demonstrate biofertilizers superiority over traditional means of farming, we are supporting an enterprising young farmer in the Chodavaram village, Guntur district, AP, to take up biofertilizers in his family-owned four-acre farm. We plan to support the procure of biofertilizers for his farm and then formally assess the soil fertility improvements multiple times during the crop period by a reputed agricultural extension agency. Our hope is that an increased yield and improved soil fertility through the use of biofertilizers will serve as an inspiration for other farmers to adopt such methods as well.
The cost of this pilot project is Rs. 70,000/- and we are raising funds to support it.
We prefer taking donations in Indian currency due to various logistical challenges. If interested to fund wholly or partially, please wire money to:
Bank Name: HDFC Bank, Gudivada Branch
Account Name: Manaloni Manishi Society
IFSC Code: HDFC0001986
Account No: 59199160677289
India: +91 91606 77289
Email: admin@manalonimanishi.org

Note: Please indicate that you are donating to the 'biofertilizer project initiative' so it will help us identify and update the current donation status on our website. Please note that it might take a few days to update our site after your donation succeeded.