He takes on the vagaries of the weather. Rain or shine, pests or not, ill-health or otherwise, financially solvent or not, he is unfazed to venture into the fields. He risks losing his capital in an unforgiving harvest season. He knows that he is taken unfair advantage of by middlemen that profit from his toil. He has no expectations in return other than a fair compensation for his day's work so he can provide for his family. Farming is in his mind. Farming runs in his veins. Farming is in his blood. Farming practically is his defining DNA. To the self-less Indian farmer that carries on his shoulders the weight of satisfying humanity's hunger, we bow to him, and offer our utmost respect.
Too little or too much rain are both out of the farmer's control, but this uncertainty is nevertheless bestowed upon by the mother nature. On top of this, farmers even had to put up with questionable companies offering to sell seeds that either fail or barely germinate. Add to that the pressure from his lenders to repay his loans at exorbitant interest rates, our farmers face challenges in every walk of their lives. Oblivious to such difficulties, it is easy for a common person to simply ignore them or place a blame and take no action. But, it takes someone an immense resolve, strength, and above all a great heart to empathize with a farmer and say to him, "You provide food for us to survive. When you run into difficulties, remember that we stand by you to help and offer the support you need". We wish to be that someone at Manaloni Manishi Foundation.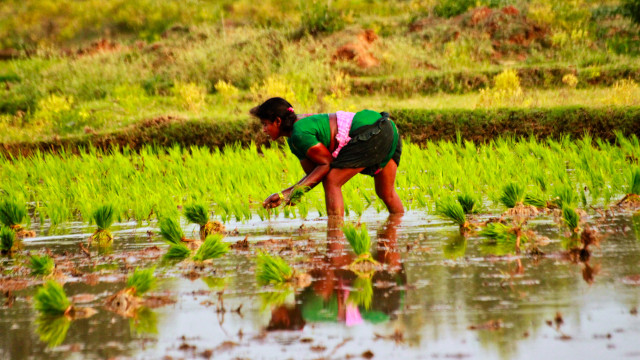 Our organization germinated out of simple conversations, we had with many kind-hearted friends and family, about the plight of Indian farmers. When they reciprocated our sentiments with equal or more fervor offering to help improve farmers' lives, we had a humbling out of the world experience. Unbeknown to many of us, farmers resort to ending their lives out of lack of choice when their thankless efforts did not make ends meet. A farmer's life is way too important than what they attribute to themselves. We want to spread our message to as many samaritans out there and ask them to take part in a shared movement to improve the lives of our farmers, one at a time. Your support in driving such an effort is extremely helpful.
Through our interactions with farmers, we realized that funding a one off project such as setting up a power supply line or digging a borewell in a farm addressing the needs of an individual farmer alone will not solve the overall crisis. Using a thorough vetting process by MMF volunteers, we identify farmers in India that are in dire need of resources to sustain their agricultural practices. We then cater to their needs in a transparent and responsible manner, and assert that we stand by them within the spirit of giving back to our farmers with love. To support  this initiative, we hope to raise funds by means of soliciting donations and other fundraising activities. Accruing those funds on interest bearing accounts, we will donate the earned interest to the vetted farmers each month for projects such as buying pump sets, setting power supply lines, buying high-yield seed, dal mills, etc.
The world's population is forecast to surpass 8 billion by the year 2050. This will cause a substantial burden for farmers to grow crops not just within the USA but all around the world. Over the last 20 years, about 230,000 farmers in India committed suicide because they did not have the means or support to grow crops and provide a decent living for themselves and their families. Farmers constantly rely on rainwater, which is essentially a gamble. In addition, access to resources such as high-quality seeds or fertilizers is not always available. At MMF, we empower farmers by raising money for their causes and do our part in solving the world's food problems.
At MMF, we have a strong conviction for truth and honesty. Our funding activities will be transparent and every trinket spent will be accounted for in our checks and balances. In our newsletters, we will send out details on where your donations were channeled, status updates and outcomes for the projects we funded. Please lend a hand in supporting our cause and help improving our farmers' lives and invest in a sustainable future.